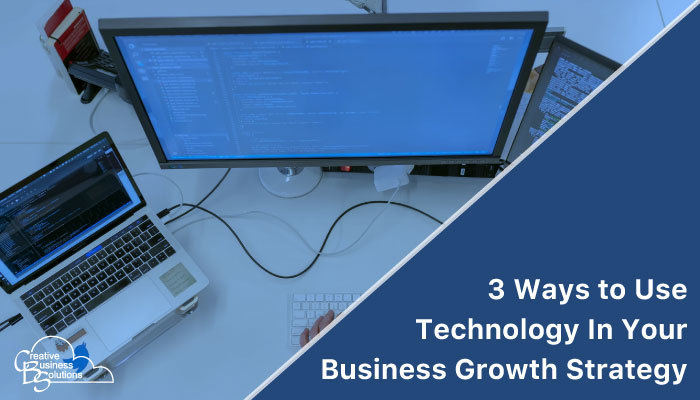 Let's face it, no matter what comes at your business, you are always looking for growth that trends upwards. In many cases, growth can come sporadically, leaving you with no clear direction on continuing to attain this goal. A mainstream trend that we often see over here at CSB Creative Business Solutions is that businesses want to maintain growth while still having a conscious grasp over fiscal components to their business.
More often today, businesses are using cloud technology to help automate, integrate, and re-engineer most of their core operational processes and systems. This course of action has led to better-streamlined processes, reduced overall company operation costs, and increased staff production times. When this technology is harnessed correctly, it has the potential to increase your organization's success significantly.
First off… Let's start with the Basics
What is a business growth strategy?
A business growth strategy allows companies to expand their business to a different level than before. Growth can be achieved by critical practices like adding new business locations, investing in customer acquisition, or growing a company's product line. A company's industry and target market influence which growth strategies it will choose. This can be a big change that leads to even bigger rewards!
In today's blog, our team is looking at 3 ways to use technology in your business growth strategy.
1. Manage Projects More Easily, Effectively, and Efficiently
The work world has changed from a once entirely in-person setup to a hybrid model. As of late, we have seen more companies recognize the industry value of a centralized experience for employees, which in the long run, contributes to growth in the company. Platforms combining the best personal business management tools and department-wide collaborative resources make work available for individuals globally. Microsoft 365 Business is an excellent resource for businesses just starting out to seasoned professionals looking for a change in how they streamline their processes.
2. Leverage the Power of Cloud Computing for your Business
In the past, businesses would use applications through software downloaded on their computers or servers to complete tasks. This is not meant to say that it was inefficient. For the better part, this worked just fine, but processes were not streamlined, which meant that things could get a bit confusing sometimes. Cloud Technology from Microsoft 365 Business takes things a notch higher for your business. So, if you want to deploy powerful business growth strategies, cloud technology should be a top consideration. Microsoft 365 Business offers a comprehensive set of tools and features that most people don't utilize or even know to exist to streamline their business processes to perfection. Many businesses don't realize that deleting the apps your business doesn't need increases the overall efficiency, and all Microsoft 365 Business applications integrate seamlessly, making your user experience hassle-free. Ensure that your employees are on the same page, even when they are working remotely! With increased security, you can work on projects from anywhere in the world, helping streamline your processes.
3. Don't Forget to Track Your Overall Progress
During the end of each work period, review your businesses' performance and your staff performance and determine what's working and what's not in your growth plan. There are many different tools that you can use to analyze your growth metrics in real-time and make changes where necessary!