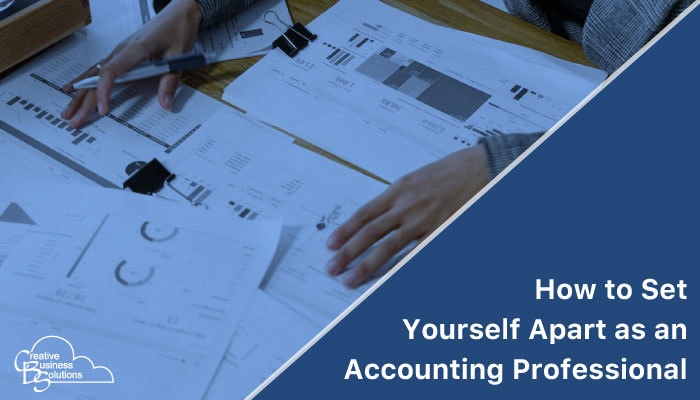 It is essential to set yourself apart from the rest of the pack in a world where finance and accounting professionals can practically work in and with any business sector. Obtaining an accounting position or securing new clients can be challenging, especially when many other candidates have the same qualifications.
In our modern times, especially with internet businesses taking more and more of the accounting market share, you must find a way to brand your accounting practice to set yourself apart from the rest. So how can you gain a competitive advantage in a flooded accounting job market? Is this even possible in the first place?
Luckily, it is possible to make yourself stand out whether you are a recent graduate just entering the workforce or a seasoned professional hoping to gain more experience and clients. To help you do that-- set yourself and your brand as an accounting or finance professional apart from the rest of the individuals in the industry—here are some helpful tips:
1. Be Innovative
We get it: being innovative seems way harder to do than to say. But, being innovative doesn't have to be an expensive and timely venture… a lot can be done by some simple road mapping and understanding your values as an accounting professional.
Small and medium-sized businesses (yes, this includes start-ups and small companies) can't always afford the big financial services firms. Think of your local mom-and-pop corner shops- these businesses, no matter how small, need accounting professionals too! As an accounting professional or firm, this is an excellent market to tap into to get your feet wet or become your specialty. A good tip from the CSB professionals is to offer free mini-assessments to small businesses and then give them a quote after. Providing this service will help the business owner understand what services you are offering and how working with you can benefit their business in the long run.
2. Get Creative with Using Technology
Are you looking to ditch the millions of apps that don't work together? We recommend using Microsoft 365 Business! Bouncing around from app to app takes time out of your day, and when running an accounting practice, that is valuable time you just don't have to waste. Properly implementing Microsoft 365 Business in your accounting practice will allow you to manage all of the features and tools you need in one place, cutting your time wasted on administrative duties significantly. Using one platform for collaboration, storage, and connectivity makes working with team members and clients more straightforward and more secure. Microsoft 365 Business offers a one-stop solution to access your email, collaboration tools, and so much more.
3. Recognize Your Clients and Build a Lasting Client Base
A lot of accounting focuses on data entry and running reports, but to be the most successful, you need to handle your clients respectfully. Surprisingly, being approachable and relating to other people while staying professional and well-mannered is a skill that not everyone in the accounting industry has. Plus, operating on a human level instead of focusing only on business is a nice change of pace during the day for clients and co-workers alike!