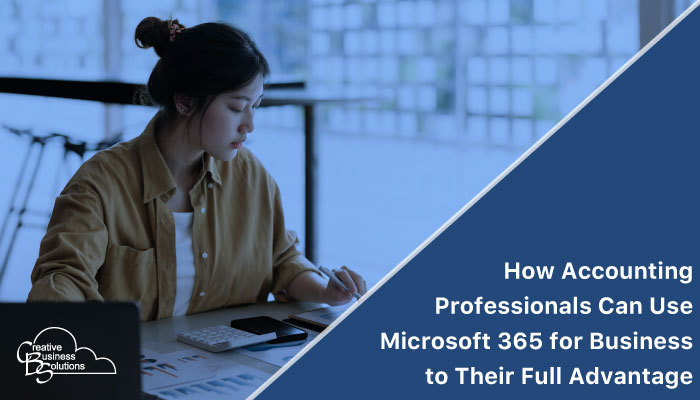 When dealing with high volumes of data entry, information and financial records, it's easy to get lost. Microsoft 365 Business Premium and Microsoft 365 Business Standard are the perfect tools for any small business. As accounting professionals, it's essential to have integrated file storage with enhanced data security to keep your workflows running smoothly. With Microsoft's cloud-based platform, everything is in one place and easy to access from anywhere.
Microsoft 365 Business makes other business platforms seem outdated by comparison. Business owners can confidently work efficiently with the range of collaboration tools Microsoft 365 Business offers. But how do you know you're taking full advantage of what the software offers?
Use The Full Suite of Tools
Microsoft has many apps available beyond Outlook, Word, Excel, and PowerPoint. OneNote, OneDrive, Forms, Planner, SharePoint and Microsoft Teams are some other apps included in the platform. It's beneficial to use each of these tools to its full potential. All the apps connect and are easy to use on the go.
Each application can also be used effectively on any mobile device, including phone or tablet, which makes it easy to work from anywhere in the world. Microsoft Teams is particularly useful for staying connected to co-workers and allows simple discourse between accounting professionals and their staff, clients or colleagues. The easy connection allows for less miscommunication and easier access to data and information.
Utilize Microsoft OneDrive and or SharePoint
OneDrive and SharePoint are fantastic ways to share files securely. Not only can OneDrive and SharePoint store all your data and information, but you can also access it from anywhere at any time. SharePoint allows great collaboration with easy access for each person. There is no more waiting to head back to the office or bringing files home, as all files are at your fingertips.
It's smooth and effortless to move items to OneDrive. You can directly upload one or more files to OneDrive or simply drag and drop them into the app. Once your files are uploaded, OneDrive has a great organization system that allows you to customize them for your needs.
There is less need to stress about security either. Microsoft 365 Business has enterprise-grade security as a default, giving you peace of mind without spending additional time or money on protection. Your files will be safe and sound and only accessible by those to whom you have granted access.
Spend Some Time on Setup, Optimization, and Research
The best way to ensure optimal usage of these apps is to start your research journey. Searching for tutorials by keywords for any questions or information you are looking for is a great place to start. Research can feel overwhelming, but by reading this article, you've already started.
Another terrific path to go down is understanding your learning style. Taking time to look into your learning style will allow you to learn more efficiently. Once you've discovered your learning path, diving into Microsoft 365's setup will be a breeze.
For example, if you are a visual learner, Microsoft's team has many great educational videos on their website. If reading and writing are your go-to style, Microsoft has many informational articles and resources on their website.
If you are still struggling with learning the Microsoft 365 Business setup on your own and want expert guidance to save you time, put your trust in the experts.
Get Training From An Expert
Getting training from an expert can help improve your ability to understand and use Microsoft 365 for Business. An expert will be able to tailor the experience to how you best absorb knowledge, and they can walk you through any specialized difficulties.
Spending money now will allow you to save money and time for years to come. Creating a deep understanding now of the product will also save you and your team time in the future.